Gin Joints



~~~~~~~~~~~

These are some of our favorites around town...

The Criteria: ambience, class and great cocktails. If you're into the velvet rope, trendy scene, boom boom music or frat bars, these establishments will probably not appeal to you.

Friendly Tip: call ahead to check for dress codes and whether you need reservations...oh yeah, and bring enough dough!

One Way Passage

written by Robert Lord,
Wilson Mizner & Joseph Jackson
directed by Tay Garnett
Warner Bros. (1932)
Kay Francis & William Powell
~~~~~~~~~~~




The Thin Man

screenplay by Frances Goodrich
and Albert Hackett
based on novels by
Dashiell Hammett
directed by W.S. Van Dyke
MGM (1934)
Myrna Loy & William Powell
~~~~~~~~~~~






After Office Hours

screenplay by
Herman J. Mankiewicz
directed by Robert Z. Leonard
MGM (1935)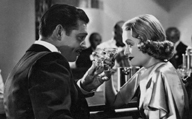 Clark Gable & Constance Bennett
~~~~~~~~~~~






Angels Over Broadway

screenplay by Ben Hecht
directed by Lee Garmes
and Ben Hecht
Columbia (1940)
Douglas Fairbanks Jr.


&

Rita Hayworth
~~~~~~~~~~~






My Man Godfrey

screenplay by Everett Freeman, Peter Berneis & William Bowers
based on a screenplay by
Morrie Ryskind & Eric Hatch
based on Eric Hatch's novel
'110 Park Avenue'
directed by Henry Koster
Universal (1957)
David Niven
~~~~~~~~~~~

Pal Joey

screenplay by Dorothy Kingsley
based on fictional letters
by John O'Hara
directed by George Sidney
Columbia/Essex Sidney (1957)
Frank Sinatra
~~~~~~~~~~~